Lepus Studios is running a gallery of Easter Eggs!
No, there are no hidden secrets for users to find (but that would be cool.) There are traditional Eggs, made by our founder and resident artist…me.
The eggs dedicated to Lepus Studios characters, plus a few that pay tribute to some of my favorite webcomics.
I would like to make this an annual tradition, which is fitting since our logo is the Rabbit's Moon. Happy Easter!
Here's the Lepus Studios Logo.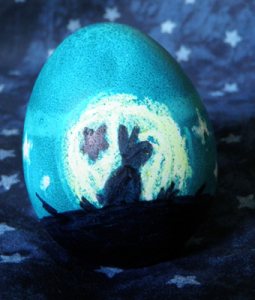 Here's Detonator. He's one-half of the Jack Rabbit Brothers.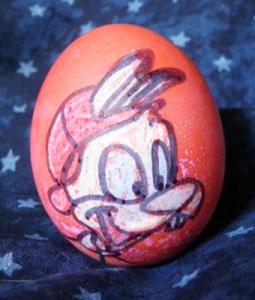 …And here's the other half of the Jack Rabbit Brothers, Dynamite.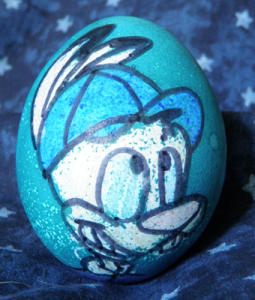 The Draconis Wicked story is not up yet, but here is Draconis anyway.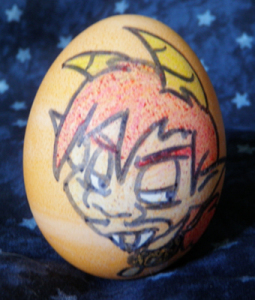 And Noko Noko, our lovable mascot!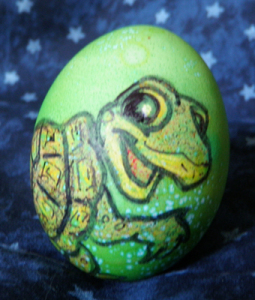 Tributes to Other Web Comics
Arthur, from Sheldon by Dave Kellett.
 Flaco, also from Dave Kellett's Sheldon.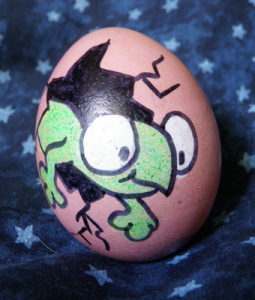 Tucker from Pinkerton by Mike Witmer.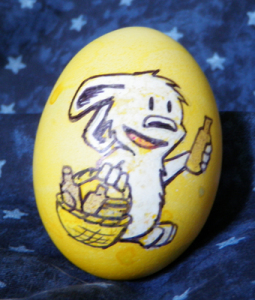 Axe Cop by Ethan and Malachai Nicolle.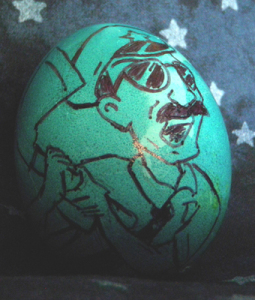 And a Few More Photos
 The real Noko Noko and his egg.
 Here's all my eggs in one basket.