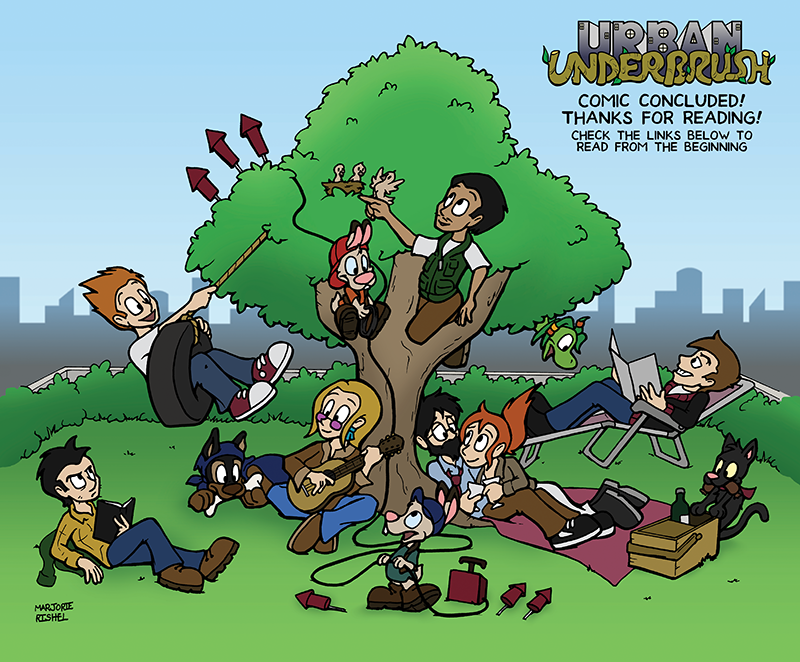 Urban Underbrush is a comic strip about two Jack Rabbits who live like people and their human neighbors who live like animals. What else can you expect from a place like The Grass Roots Boarding House, an old city building that's been taken over by its roof garden. Luckily, the residents have found reasons to enjoy, or at least tolerate, their earthy home. (Comics ran from 2010 to 2016.)
Chapter Guide
Book One:

Chapter 1: Rabbits Move In Wacky antics occur as Dynamite and Detonator move to the city and meet their new neighbors.

Chapter 2: Storage Problems More wacky antics as Dynamite and Detonator find a safe place to store their explosive equipment.

Chapter 3: House Warming Party Get to know some of the Grass Roots residents at the house warming party.

Chapter 4: Grass Roots History Cassidy explains how the house was built, how the garden was planted and how she, Maxwell, Clayton, Clive, Blair and Vincent became neighbors.

Chapter 5: Bicycle Ride Dynamite and Detonator hire the local paper boy to help them deliver their explosives. The idea is as bad as it sounds.

Chapter 6: Introducing Leslie Leslie is a Grass Roots resident who's back in town.

Chapter 7: Stray Cat Clayton brings home another stray animal. But ths mysterious cat could be more trouble than he's worth.

Chapter 8: A Night on the Town Blair wants to cruise the night spots. Dynamite and Detonator want to tag along. Clive wants to make trouble.
Chapter 9: The Stripe-Tailed Hawk Clayton takes Dynamite and Detonator to the forest to help save a endangered animals.

Interlude #1 A series of stand-alone comics with no long story arc.

Chapter 10: Identity Crisis Cassidy's sisters come to visit. Cassidy is forced to confront some truths about herself, which leads to a domino effect of odd problems for the other residents.
Chapter 11: How Caius Stole Christmas Christmas comes to the Grass Roots House. Can Caius be trusted around the gifts and other holiday valuables?
Book Two:

Chapter 12: House Inspection The Grass Roots House is past due for an inspection. Surely, everyone can keep their odd secrets hidden for one evening…right?

Interlude #2: Short stories and stand alone comics, mostly about toys and games. Includes the "Stealth Elf" comics.

Chapter 13: Teenage Crush Blair agrees to run a business meeting for his uncle. But the client is girl who had a crush on Blair back when they were teenagers. This could get complicated.

Chapter 14: Beta Test Dynamite and Detonator need to test their new explosives, much to the dismay of everyone else.
Chapter 15: Manuscript A mysterious book causes trouble.

Interlude #3 A series of stand alone comics, mostly relating to computers and technology.

Chapter 16: The Pack A look back into Slasher's life as a guard dog.

Chapter 17: Catalyst Clayton and Vincent team up to help find a missing ingredient for Dynamite and Detonator's fireworks.

Chapter 18: Rabbits Move Out  Dynamite and Detonator return to the desert and the fate of the Grass Roots House is in jeopardy. This is the final chapter.