As some of you know, I have a lot of side projects besides this whole comic thing. Many of you may even be familiar with my dalliances in music and theater. I'm referring, of course, to Super Smash Opera, an original musical show created by my friends and me back in 2015. It's a 45 minute stage show that parodies video games while performing classical music with fun new lyrics.
Well, the show must have done something right, because we have been invited to perform it at several different video game conventions. For sometime now, fans have been asking for a sequel. Well, this January, your prayer will be answered. We will be debuting the long-awaited sequel at this year's MAGfest in National Harbor Maryland; Super Smash Opera presents, ARIA KART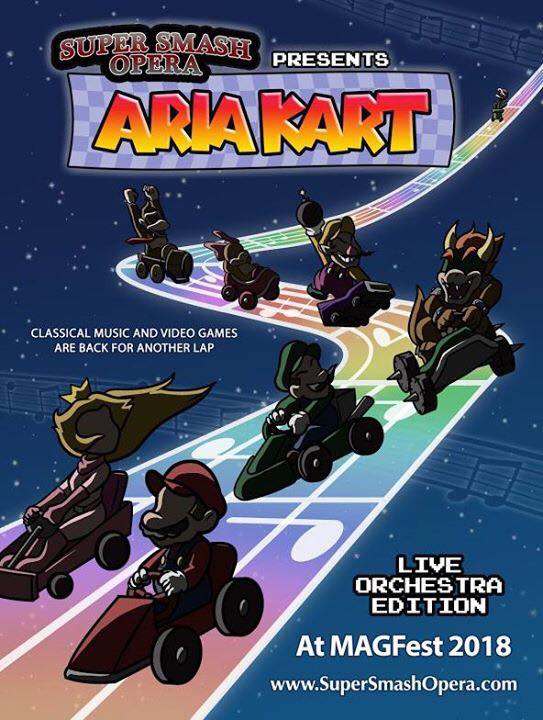 Okay, it's less of a sequel and more of a new story based on a new game. But it could be in the same world, maybe? Hey, the games themselves don't always have story continuity. What do you want from me?
Once again, I will be reprising my roles as Story Director, Graphic Artist, Small Puppet Designer, and Visual Effects Crew. I also wrote some of the song lyrics. I even got to collaborate with my sister, Liz, on a few of my favorite songs.
If you enjoy the stuff you see on this website, I suggest you take a look at Aria Kart. Videos will probably be posted online, but it's tough to beat a live performance when you can catch one.
Check out our latest trailer for all the info and a closer look at our crazy crew.
MAGfest will run January 4-7, 2018. We'll also be holding some behind-the-scenes panels and we'll be making some appearances in the dealers' room for anyone who wants merchandise or just wants to say "hi." (And if you have any comic-related questions for me, I wouldn't chase you away.)