Easter Eggs 2013
We've done it again. The Fourth Annual Lepus Studios Easter Egg Gallery features Easter eggs decorated with Lepus Studios characters and characters from other favorite webcomics.

Saber has been the star of the current storyline. Let's give him the spotlight this year, shall we?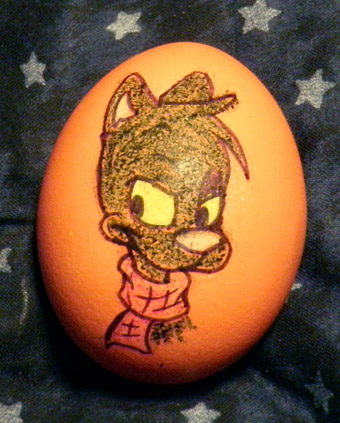 Last year, the roguish Caius went from being a least-liked character to a most-liked character. What other surprises does he have in store for us?
 Tributes to Other Web Comics
Captain Heroic from Evil Incorporated by Brad Guigar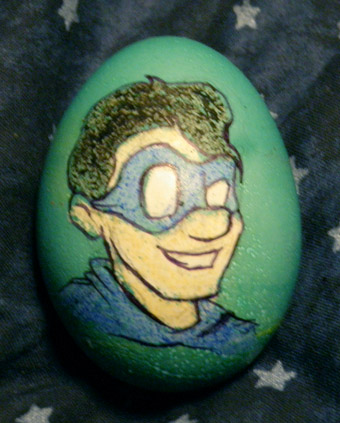 The long-running, comic book-inspired story about a corporation run by supervillians (aren't they all?) Author Brad Guigar has literally wrote the book on webcomics and is the leading expert over at webcomics.com Without his advice, Lepus Studios probably wouldn't exist. And if it did, it would be uglier.
 Autumn Pingo from Precocious by Christopher Paulsen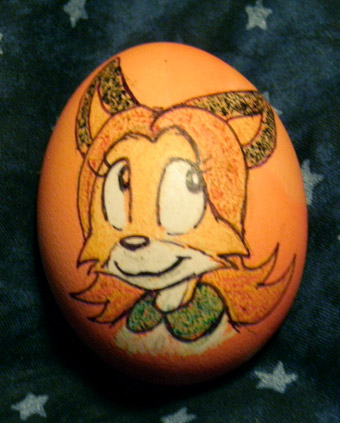 Autumn is a bookish kid and, probably, a future librarian. So how much trouble can she really cause? You'd be surprised.
 Nimona and Ballister from Nimona by Noelle Stevenson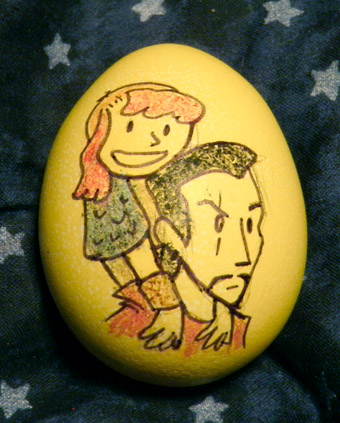 Lord Ballister Blackheart may be the most righteous man in the entire kingdom. Too bad he thinks he's the villain. His teenage henchman, Nimona, has just about figured him out though, which is quite a feat, given her attention span…
 Drew Spencer from Power Nap by Maritza Campos and Bachan

Imagine if you were one of the last people alive who ever needed to sleep. Oddly, that's only the beginning of Drew's problems.
  Treiss from Catena Cafe by DeBray Bailey and Tracey Bailey

What would it look like if Don Bluth drew a webcomic? Catena Cafe has a smooth and theatrical style to its artwork, with characters and stories that are all its own. Some of you may remember that Catena had been on a break last year, but it's been back and better than ever.
 Lazy Cat and Two Cops from Chainsawsuit by Kris Straub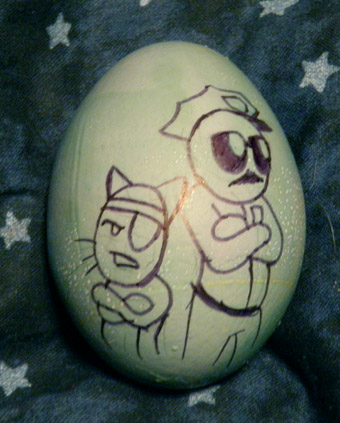 Wait, wasn't Kris Straub in the gallery last year? Well, I got a few requests to include Chainsawsuit, the gag-a-day scribble comic that has won the hearts of quirky internet users the world over.
 And Finally…Here's all my eggs in one basket.