Zombies, Ketchup and Football
(originally posted May 21, 2010)
Last weekend was an adventure. As some of you know, my sister Liz and her friend Bonnie are writing an opera. It is an opera about zombies. In order to fit the show on a stage, many of the crowd scenes are being filmed in advance. These scenes will be projected on stage during the live performances. Last Saturday, I was asked to go downtown and help do various odd jobs to help keep the filming going. My tasks included taking film notes for editing, buying lunch, playing random extras, taking "behind-the-scenes" photos, and pretending to beat up some guy I just met because the stunt coordinator thought it would be funny if a random girl beat up some dude in the movie (don't worry kids, we're all just acting).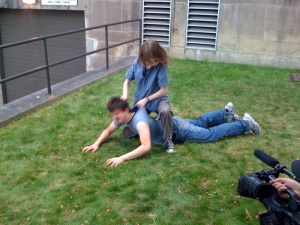 (Note: All stunts were performed with coaching and supervision by trained professionals. Don't try this at home. I know you all want to be cool like me, but please think of your own safety.)
Yeah, not a typical weekend for me.
Liz and Bonnie did a lot of filming downtown because they want people to know that the story takes place here in Pittsburgh. It's oddly poetic since horror movie master George Romero did so much of his early zombie work here. "Pittsburgh is known for zombies, ketchup, and football" one of the actors remarked.
-Marj
(Photo of me wailing on Eric courtesy of Brian and Barry Bogovich. See it in it's original form Here.)