Super Smash Opera and MAGfest 13
The following info first appeared in the content section on January 12, 2015. I have copied it into the blog section so it can be saved for posterity. This is not current news anymore.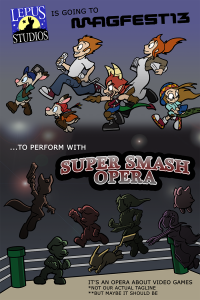 There's a number of reasons why I haven't posted many comics lately. The most interesting one is that I've been helping to write a video game opera.
Yes, a group of my friends and I have been writing an opera inspired by the Super Smash Bros. games. We've taken classic opera tunes and gave them new lyrics that help tell a new story about familiar Nintendo characters.
Super Smash Opera will be performed at MAGfest13, at 4:30, on Friday, January 23 in the Panel 1 Room (right after The State of the MAGfest Address.)
Our teaser video might explain it…
If you're wondering what a non-musician like myself could ever do on a project like this, I've written three of the song's lyrics, wrote parts of the scripted dialogue, helped organize the story, made graphics, and sewed puppets (yes, this is the kind of opera that has puppets.)
Plus, I'm the understudy for one of our tenors, just in case his flight is delayed. (Please pray that the flight will arrive on schedule.)
To find out more, please visit the project's website HERE or visit the MAGfest site HERE.
If you're attending MAGfest13, please come see us.
And yes, normal comic updates should resume shortly after the show.