(Originally posted Apr. 14, 2011)
Last week, I mentioned that I would be taking a trip and I promised to tell you all about it.
This past Friday, some of my cousins and I drove down to Washington D.C. to attend the Cherry Blossom Festival.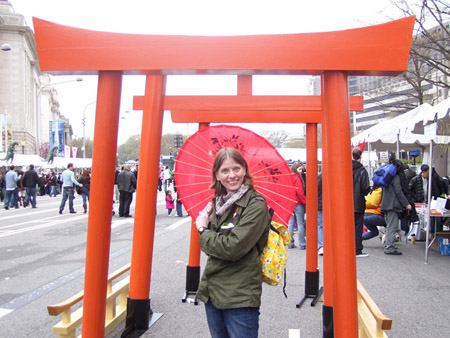 Me outside the Shinto Culture booth. I have a banzai tree in my jacket pocket. Perhaps I should plant it on my roof.
Although I have visited Washington D.C. before, this was my first-ever Cherry Blossom Festival. The weekend was a very cool mix of events. We started by catching some of the parade on Pennsylvania Avenue.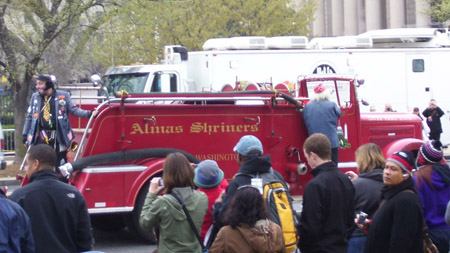 Here is a fire truck driven by hobo clowns. Apparently, the recent budget cuts have hit the fire department hard.
The big event was the Sakura Matsuri Japanese Street Festival. Although the festival was mostly shopping, it also included food, cultural demonstrations, traditional music, j-pop music, and martial arts demonstrations. Lots of different people crowded the streets, with just enough anime fans and cosplayers to keep things interesting.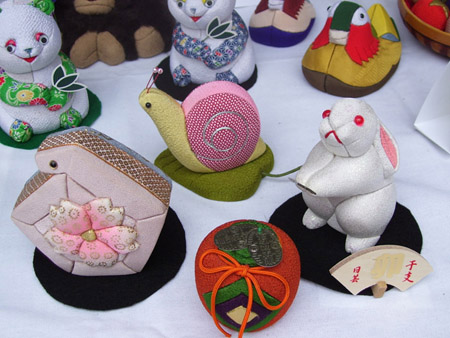 Some fancy hand-made toys.
By Sunday, things had mellowed out a little. We attended the big kite festival that surrounded the Washington Monument. There were some kite demonstrations, kite sales, and a make-your-own kite table, but most of the guests just brought their own kites from home and had fun with it.
A few blooming trees over-look the grounds of the Washington Monument, where the crowds have gathered for the kite-flying festival.
We had a pretty awesome weekend. I may need to go back again some time and try all the events we weren't able to attend this time around (we wanted to go on the lantern walk around the Tidal Basin, but time, weather, and public transportation were not on our side.)
It was also very inspiring. At a time when the country of Japan is in such a bad place, I was elated to see that it's culture and spirit were still being praised, celebrated, and prayed for by so many different people.
-Marj
I walk to find you
sometimes five or six miles
cherries in blossom