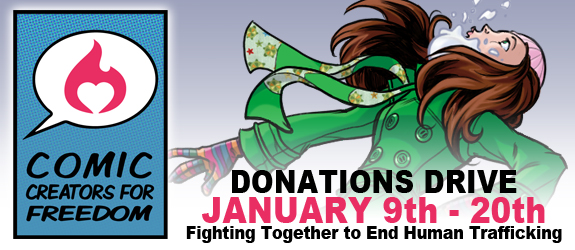 As a cartoonist, I'm the kind of person who spends a lot of time stepping in and out of fantasy worlds. So it's important that I try to keep up with world events as much as I can. It keeps me from becoming too disconnected. Still, I was amazed when I discovered Comic Creators for Freedom last winter (back when they were still "Comic Creators Alliance"). Comic Creators for Freedom [www.comiccreatorsforfreedom.com] unites cartoonists to help raise awareness and support for the fight against human trafficking – the buying and selling of human beings. I wasn't surprised to learn that such a charity existed. I was surprised to learn how necessary it was. Up until then, I had thought of slavery as something from the past, something that may still exist on a smattering of small countries in distant parts of the world. Wrong. There is an estimated 27 million people being kept as slaves in the world today.* Even in industrialized countries, like here in American, humans are bought and sold. Even children and young girls are being kidnapped off the streets or from school bus stops. They are ripped from their families and abused in every way imaginable.
January 11 is National Human Trafficking Awareness Day (in the United States) and Comic Creators for Freedom is starting their annual donations drive. This year, 127 different cartoonists have contributed a drawing of one of their female characters. These drawings have been assembled into one super drawing. Many popular webcomics have joined in this year, including Girls with Slingshots, The Dreamland Chronicles, Kukuburi, Earthsong Saga, Looking for Group, Love and Capes, The Dreamer, and even Draconis Wicked (look for Flight. I haven't seen it yet, but I think she's on the right.)
Anyone who donates to CCF can download the image to use as desktop wallpaper. All profits will be split evenly between Gracehaven [www.gracehavenhouse.org] and Love 146 Round Home [love146.org], two groups that help rehabilitate the rescued victims of slavery.
The donations drive will run from January 9th to January 20th so if you want a wallpaper, don't wait too long.
Please note that the drawing itself does not include any illusions to slavery or other dark themes. It is safe for work and children.
I am honored to be able to take part in this. My deepest thanks to anyone who donates, or even passes the word along.
-Marjorie Rishel
(*facts and statistics courtesy of Comic Creators for Freedom [www.comiccreatorsforfreedom.com])