on
July 6, 2015
at
12:00 am

Summer has officially started and convention season is getting into full swing. It seems like a good time to announce my upcoming convention appearances. This summer, I'll be present at three different conventions in the Pittsburgh area, one as Lepus Studios and two with Super Smash Opera.
As Lepus Studios:
Pittsburgh Anthrocon (July 9-12 – David L. Lawrence Convention Center, Pittsburgh)
That's right, I'm going to a furry convention. And I'll be bringing some (currently) con-exclusive merchandise with me. This could be your best chance to own a Draconis Wicked comic book, Draconis Wicked character cards, Urban Underbrush postcards, Draconis Wicked and Urban Underbrush T-shirts, and plush turtles (as seen in my animated short, Cookie Tree).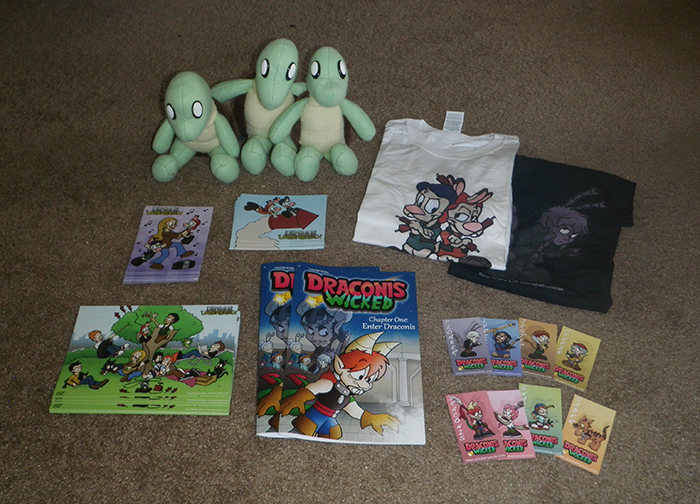 Come by to shop or just to say hello. I'll be in the Hall B Dealers' Room at table L02.
With Super Smash Opera
As you may recall, I was one of the six authors of Super Smash Opera, a fabulous video game parody show. Now the full cast (minus the original tenor – he's in Africa, if you'd believe it!) will be giving two live performances. Once again, my custom-made Pokemon puppets will take the stage, while I continue to fullfill my lifelong dream of running a sound board.
Confluence (July 25, Doubletree Hotel, Sheraton Drive, Cranberry)
Confluence is a sci-fi/fantasy convention with many rich traditions and a super loyal fan base.
Super Smash Opera will perform at 8:00pm. Plus, we will be speaking at a panel on parodies at 4:00pm and a special Super Smash Opera Q&A at 9:00pm (right after the show).
(The con runs all weekend, but you have to attend on Saturday to see our show.)
ReplayFX (August 1 – David L. Lawrence Convention Center, Pittsburgh)
Finally, a video game convention! ReplayFX will be bringing a giant collection of arcade and console games to Pittsburgh gamers. Of course, gaming contests, cosplay, music and other silliness will follow.
Super Smash Opera will perform at 10:30am in Hall 407.
(Again, the con runs all weekend, but we'll only perform one show on August 1.)